Design Your Logo
Move and rotate elements by dragging them.
Resize by dragging this corner.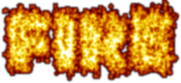 Similar Styles
Pyromaniacs and Boy Scouts Unite
Burn, baby, burn. The Fire logo style makes your logo into flaming text. Save yourself some money on your gas bill - let us build the fire for you. Customize the font, and the shape of the fire will change with it. No need to call the fire department for permission. A flaming text effect is sure to ignite your logo.

Set your logo aflame with the Fire logo style!