Design Your Logo
Move and rotate elements by dragging them.
Resize by dragging this corner.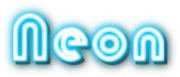 Similar Styles
Way Better than Glow Sticks
Neon is a cool element - it glows when you run electricity through it! Signs and logos everywhere use it. Just check out Vegas at night! One problem with these luminescent neon signs is the burnouts. Bowling becomes "owling" in a matter of moments. But here at Cool Text, we've solved that problem with our Neon Logo Style.

This style simulates the look of a Neon sign. The best part is - the letters never burn out! Save yourself some science homework, and let us change the color of the neon glow to the color you want. It's sure to save you from dealing with a smelly chemical or two.

Light up the night with the Neon Logo Style!