Design Your Logo
Move and rotate elements by dragging them.
Resize by dragging this corner.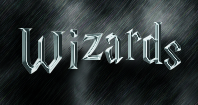 Similar Styles
Summoning the Wizards Logo Style
Whether your favorite incantation is "Abracadabra", "Bibbity Bobbity Boo", or "Alohamora", we've got an enchanting logo for you!

Wizards is a logo style for all you witches, sorcerers, and clairvoyants. Select from one of over a hundred textures for your logo's background! We've got dirt, water, lightning, and trees, for those of you into elemental magic. There are also a myriad of other backgrounds for battle mages, alchemists, and druids. If invisibility is what you like, you can also make the background transparent.

It's much easier than that summoning spell you've been learning!