New! From the
Creator of Cool Text

iOS - Android - Windows
Design Your Logo
Move and rotate elements by dragging them.
Resize by dragging this corner.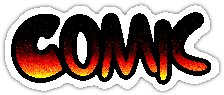 Similar Styles
Be a Superhero
Are you a comic enthusiast? Do you like superheroes? Does the thought of the next installment of [Insert Your Favorite Comic's Name Here] bring excitement into your life?

If so - you should try out our Comic logo style! This logo style makes your logo appear as though it came straight out of the funnies section of the newspaper. You don't even have to go through a cartoon syndicate.

Turn your logo into a superhero with the Comic logo style.