Design Your Logo
Move and rotate elements by dragging them.
Resize by dragging this corner.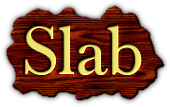 Similar Styles
Make Logos, Not Tree Carvings
Remember that time you carved your initials into a tree with your significant other in high school? Well, now you can do it again, except without damaging a tree.

Our Slab style simulates the look of text carved into a medium. Choose from our selection of textures - choose a realistic medium like rock or wood, or choose something crazy like a lightning filled sky! We also have cheetah print if that's your thing.

Save a tree (or a cheetah) with our Slab logo style!